1920's
In 1927 a small group of engineers and waterworks administrators met in the old Portland Hotel, Portland, Oregon, for the purpose of establishing the Pacific Northwest Section. Among those in attendance were Willibald A. Kunigk, Tacoma, Washington; Ben Morrow, Portland, Oregon; Alex Lindsay, Spokane, Washington; Carl McClain, Eugene, Oregon; and Fred Sharkey, Wenatchee, Washington. They drew up the first by-laws and initiated an election of officers.
The first conference was held November 16-17, 1928 in Seattle, Washington at the Gowman Hotel (2nd and Stewart Streets). Mr. Kunigk was the Chair and there were ninety registered.
Topics discussed included:Water Resources of the State of Washington; Chlorination of Water Supplies in the Pacific Northwest; Should Water Superintendents favor consulting services; Underground water resources in the area of Tacoma; Legal phases of financing municipal water supplies of Washington; Design and construction of 3 MG covered water reservoir; Relation of fire service to property values.
There were five Committees: Registration and Reception; Dinner and Entertainment; Membership; Transportation; and Golf.
The 1929 Conference expanded to Thursday, Friday and Saturday activities.
1930's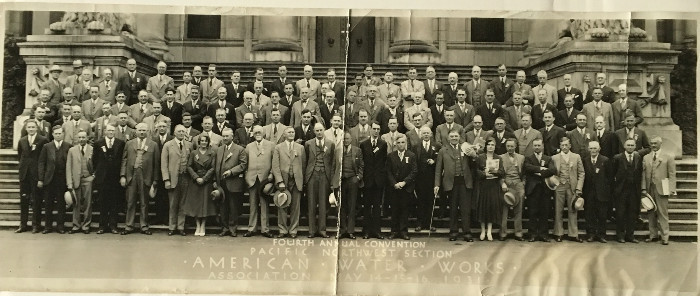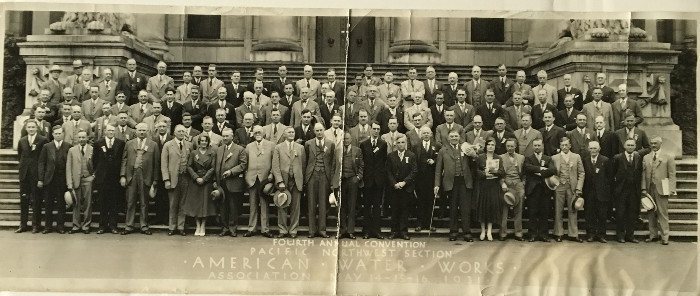 Membership in 1935 was a total of 101; fifty in Washington, thirty-seven in Oregon and fourteen in Idaho.
In 1938 the Pacific Northwest Section presented the first Man of the Year award to W. A. Kunigk. He was also the recipient of the first George Warren Fuller Award from The Association that year.
The first annual Water works and Sewerage Treatment Operators Course was held in 1938.
The Gimmicks and Kinks contest started (the forerunner of the current Gimmicks and Gadgets contest) in 1939.
1940's
The 1940 membership totals were eighty in Washington, forty-two in Oregon, eight in Idaho and one in Alaska.
By 1947 the Pacific Northwest Section had sixteen committees: Registration, Golf, Program, Transportation, Membership, Buffet and Banquet, Nominations, Public Relations, Fuller Award, Water Works Retirement and Pensions, Convention Publicity, Gadget, Cross Connections, Meter Specifications, Underground Waters, Local Arrangements.
1950's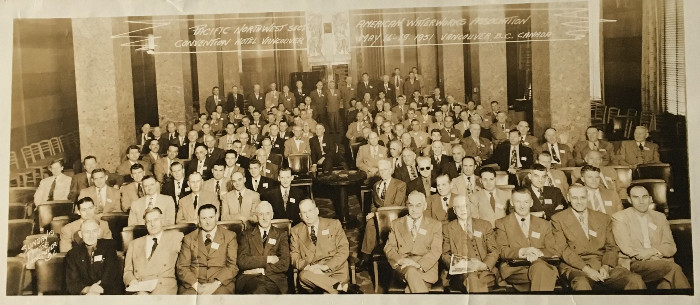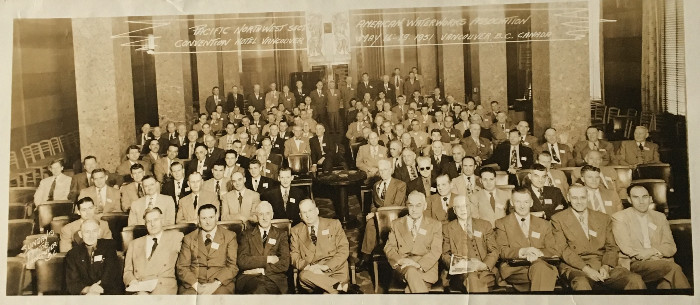 The Powell Lindsay Award was started by John W. Cunningham, a consulting engineer in Portland, Oregon, in 1950.
The Pacific Northwest Section hosted the AWWA Conference held in Seattle, Washington in 1954.
The first Pacific Northwest Section member to hold the office of AWWA Association President was Fred Merryfield in 1957-58.
1960's
The Pacific Northwest Section Newsletter was started in 1960 and the annual conference days changed to Wednesday Thursday and Friday. The Ladies (forerunner of the current 'Guest') program was started this year as well.
In 1963 Pacific Northwest Section formed Subsections. There were eight to begin with, four in Washington, one in British Columbia and three in Oregon.
In 1964, Pacific Northwest Section member Lois Cherry became the first woman to receive an Operator Certificate in Oregon. She worked as the purification plant operator in Oakland, Oregon. Also, the Section had its second Association President, E. Jerry Allen of the Seattle Water Department.
A voluntary certification program began in Washington in 1967. Lawrence Blevins of Clarkston, Washington became Certified Operator # 2. The records do not indicate who was # 1.
By 1967, the Section had twenty-three committees: Program, Nominating, Awards, Conference Place, Publicity, Advancement and Public Information, Water Resources and Policy, Finance, Banquet and Entertainment, Safety, Fluoridation, Publications, Membership, Short Course and Certification for Washington, Oregon, Idaho and British Columbia, Ad Hoc Committee on Committees, Tellers, Conference, Registration, Information and Ladies Program.
1970's
The first annual scholarship was given to Ron J. Wagner in 1970.
In 1971, the first Cross Connection Control Manual was published.
1972 was the year a woman received Operation Certification in Washington. She was Fumi Higashi from Seattle Water.
In 1973, British Columbia left the Section and formed its own Section.
1980's
The first Area Subsection Award program started in 1981. Sam Macri received the award for the Washington/Alaska area and Ed Falon received the award for the Oregon/Idaho area.
The first Pacific Northwest Section member to receive the AWWA Hall of Fame award was Fred Merryfield in January of 1984.
By 1985, the Pacific Northwest Section membership reached 1,100. This was the year the Continuing Education Units (CEU) pilot program started.
In 1986, the Section held its first Tapping Contest. The newly formed Lower Columbia Subsection won this competition.
In 1987, the State of Alaska left the Section and formed its own Section.
In 1987, the Pacific Northwest Section had its first woman Trustee, Anne Merryfield. Also, the Section appointed its first Historian, Don Pickens. By this time there were twenty-nine Section Committees: Area Subsection, Budget and Finance, Bylaws and Procedures, Certification, Local Arrangements, Conference Place, Cross Connection, Education, Trustee Meetings, Fuller Award, International Liaison, Legislative, Membership, National, Nominating, Past Chair, Powell-Lindsay, Program, Publications, Public Relations, Research, Safety, Scholarship, Subsection Awards, Tellers, Washington Utility Council, Water Quality, Water Resources and Water Works Suppliers Liaison.
By 1987, the Section was the ninth largest with 1,702 members as of October 1.
1990's
The first Historical Committee was formed in 1991.
The Pacific Northwest Section had its third member as Association President, Bob Wubbena, in 1994-95.
1994 was the year the Section started its Top Ops contest.
The Meter Madness contest was started in 1995.
By 1996, Pacific Northwest Section membership totaled 2,609, the third largest Section of AWWA.
Since 1944, there have been one hundred thirty-nine Pacific Northwest Section members receiving Life Memberships (given for 30 years membership in AWWA). Since 1987 there have been sixteen Pacific Northwest Section members receiving Gold Water Drop Awards (given for 50 years membership in AWWA).
There have been seven Association Water Landmark Awards given to Pacific Northwest Section Water Facilities.
In 1997 there were thirty-eight Pacific Northwest Section Committees: Area Subsection, Audit, Budget and Finance, Bylaws and Rules of Procedure, Certification, Conference Arrangements, Conference Location, Conservation, Cross Connection Control, Customer Service, Diversity, Education, Education and Training Endowment Fund Board, Engineering, Fall Trustees Meeting, Financial Management, George Warren Fuller, Historian, Idaho Water Utility Council, Inter-Organization Liaison, Manufacturers & Associates Council, Membership, Association Awards and Review, Negotiating, Nominating, Oregon Water Utility Council, Past Chairs, Powell Lindsay Award, Program, Publications, Safety, Scholarship, Small Systems, Washington Water Utility Council, Water Quality Management, Water for People, Water Resources Management and Water Treatment.
In 1998, the Public Information Committee was added to the list of Section Committees.
1999 brought yet another honor to this Section. The election of Bob Willis to AWWA President Elect. He will serve during the 2000-2001 year as President.
Section membership by 1999 reached 2,820, maintaining its third largest Section status for yet another year.
2000's
The new millennium brought another AWWA President from the PNWS. Bob Willis was inaugurated at the 2000 AWWA Conference in Denver.
We saw the advent of our website and increasing use of electronic media for both communication and training.
The award of scholarships has continued since the Section first awarded them in 1995 to seven students in the region. State Universities, private universities and community colleges have all been well represented over the past 20 years.
2010s
2016 Saw the election of Brenda Lennox to AWWA President Elect. She will serve during the 2017-2018 year.
Since in 1995 the Section has awarded nearly $430,000 in scholarships to Pacific Northwest students from all states in the region.
Conferences
Our annual conference is always well attended – both informative and fun.
2012 Yakima
Focus of the technical sessions was on regulatory compliance, water supply and conservation and catastrophic hazards
2013 Spokane
This conference saw the introduction of the Early Bird session on the history of the host city's water supply. Seismic events and water efficiency were some of the discussions during the technical sessions
2014 Eugene
Aging infrastructure and new systems and supplies were discussed.
2015 Bellevue
Asset management, resilience, seismic retrofits, and climate change were four topics of sessions and conversations throughout the conference
2016 Boise
Drought, reuse, climate change were the hot topics during very dry year
2017 Kennewick
A variety of discussions on seismic resilience, Flint and lead, water supplies and water rights