Golf and Guest Registration
Annual Conference Golf Tournament
Wednesday, April 25. Fircrest Golf Club. Tee time 8am.
We are extremely excited to hold our annual conference golf tournament this year at Fircrest Golf Club.  A private club since it opened in 1923, Fircrest sits on 160 acres just minutes from downtown Tacoma.  Don't miss this opportunity to play this magnificent private course without the typical membership recruitment, buy in and annual dues. Just $95 gets you golf, a cart, lunch and prizes.  Click here for directions to the course. 
Competition Night Under the Big Top
Kick off the 2018 PNWS Conference with great food and beverages at our annual Meet and Greet and Competition Night Under the Big Top!  Connect with old friends and make new ones Wednesday, April 25 from 5:00-9pm as we cheer on our favorite teams in Pipe Tapping, Meter Madness,  and Hydrant Hysteria! The Tacoma Convention Center is the location.  Expect a circus atmosphere with action going on in multiple rings! Enjoy big top entertainment as you enjoy great food and a great evening! Guest tickets are just $50.
Awards Banquet
You won't want to miss our closing night awards banquet. The evening kicks off with closing of the Water For People silent auction and champagne reception. This is the time to stake your claim to that one item or three that you cannot live without!  Be there there and witness the judging of our Best Tasting Water Contest. Whose water will represent our Section at the national taste test at ACE18?
Then its on to our awards banquet. This special evening recognizes the hard work and dedication of our AWWA members as the Section presents its highest awards, culminating with the presentation of the AWWA Fuller Award. Stick around following the banquet and join us as we celebrate the passing of the gavel from PNWS Section Chair Dan Kegley to incoming Section Chair Mel Damewood.
Guest tickets are $50.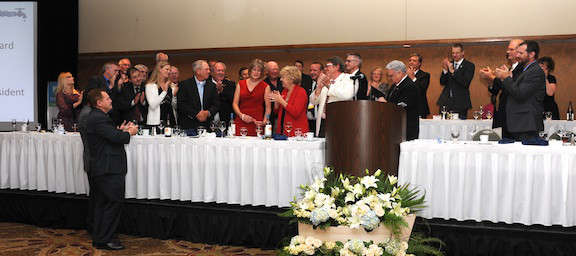 For Golf or to Bring a Guest to the Conference: